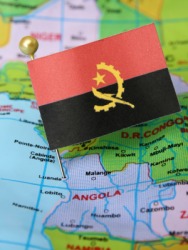 A global map of Angola and its flag.
---
Angola definition by Webster's New World
country on the SW coast of Africa: formerly a Portuguese territory, it became independent in 1975: 481,354 sq mi (1,246,702 sq km); pop. 5,646,000; cap. Luanda
Webster's New World College Dictionary Copyright © 2010 by Wiley Publishing, Inc., Cleveland, Ohio. Used by arrangement with John Wiley & Sons, Inc.
---
Angola definition by American Heritage Dictionary
A country of southwest Africa bordering on the Atlantic Ocean. Previously settled by Bantu-speaking people, the region was colonized by the Portuguese beginning in the 16th century and became an overseas province in 1951. The country achieved independence in 1975, but factional fighting broke out, which elections in 1992 failed to end. Luanda is the capital and the largest city. Population: 12,300,000.
Related Forms:
Angola
The American Heritage® Dictionary of the English Language, 4th edition Copyright © 2010 by Houghton Mifflin Harcourt Publishing Company. Published by Houghton Mifflin Harcourt Publishing Company. All rights reserved.
---
Angola - Cultural Definition
Republic in southwestern Africa on the Atlantic, bordered to the north and northeast by Democratic Republic of Congo, to the east by Zambia, and to the south by Namibia. Its capital and largest city is Luanda.
After achieving independence from Portugal in 1976, Angola was the scene of a civil war between its Marxist government, supported by the Soviet Union and Cuban troops, and a rebel organization known as UNITA, which was aided by the United States and South Africa. In 1988, the United States engineered a settlement that led to the withdrawal of Cuban troops and to South African acceptance of black majority rule in neighboring Namibia.