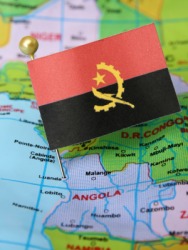 A global map of Angola and its flag.
---
Angola
country on the SW coast of Africa: formerly a Portuguese territory, it became independent in 1975: 481,354 sq mi (1,246,702 sq km); pop. 5,646,000; cap. Luanda
---
Angola
A country of southwest Africa bordering on the Atlantic Ocean. Previously settled by Bantu-speaking people, the region was colonized by the Portuguese beginning in the 16th century and became an overseas province in 1951. The country achieved independence in 1975, but factional fighting broke out, resulting in a civil war that was ended by a ceasefire in 2002. Luanda is the capital and the largest city.
Related Forms:
Angola
---
Angola
Proper noun
A country in southern Africa. Official name: Republic of Angola.
Origin
From Portuguese (Reino de) Angola ("(kingdom of) Angola"), from Kimbundu ngola ("king's title").
---