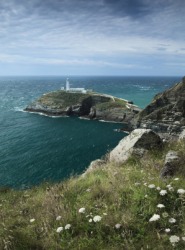 A lighthouse in the Isle of Anglesey.
---
Anglesey
or Anglesea
former county of NW Wales, now part of Gwynedd county

large island in the Irish Sea off the NW coast of Wales: part of Gwynedd county: 276 sq mi (715 sq km)
---
Anglesey
or An·gle·sea
An island of northwest Wales in the Irish Sea. It has many Neolithic ruins, especially dolmens, and is said to have been the last refuge of the druids from the invading Romans.
---
Anglesey
Proper noun
An island and traditional county at the northwestern extremity of north Wales. It is separated from Caernarfonshire on the mainland by a narrow stretch of water called the Menai Strait.
---