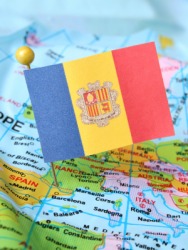 Map using the flag of Andorra to show the countrys location.
---
Andorra
country in the E Pyrenees, between Spain and France: 175 sq mi (453 sq km); pop. 63,000
---
Andorra
A tiny country of southwest Europe between France and Spain in the eastern Pyrenees. Although it pays nominal yearly homage to its suzerains in France and Spain, it is an independent republic. Andorra la Vella is the capital.
Related Forms:
An·dor′ran

adjective

& n.
Andorra
---
Andorra
Origin
The name Andorra probably originates from a Basque word andurrial ("shrub-covered land"), but it may come from Arabic الدرا ("the forest") or Spanish andar ("to walk").
---