anachronism
a·nach·ro·nism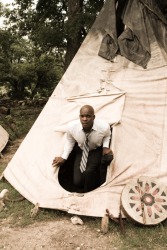 A modern businessman is a teepee is an anachronism.
noun
The definition of anachronism is a person or thing that is placed in a time period where it does not fit.

If a movie about ancient Egypt showed a Pharaoh wearing a wristwatch, the wristwatch would be an example of an anachronism.
---
anachronism
the representation of something as existing or occurring at other than its proper time, esp. earlier
anything that is or seems to be out of its proper time in history
Origin of anachronism
Medieval Greek
anachronismos
from
anachronizein
, to refer to a wrong time from Classical Greek
ana-
, against +
chronos
, time
---
anachronism
noun
The representation of someone as existing or something as happening in other than chronological, proper, or historical order.
One that is out of its proper or chronological order, especially a person or practice that belongs to an earlier time: "A new age had plainly dawned, an age that made the institution of a segregated picnic seem an anachronism" ( Henry Louis Gates, Jr. )
Origin of anachronism
French
anachronisme
from
New Latin
anachronismus
from
Late Greek
anakhronismos
from
anakhronizesthai
to be an anachronism
Greek
ana-
ana-
Greek
khronizein
to take time
(
from
khronos
time
)
Related Forms:
a·nach′ro·nis′tic a·nach′ro·nous

adjective
a·nach′ro·nis′ti·cal·ly a·nach′ro·nous·ly

adverb
---
anachronism

Origin
From Latin anachronismus, from Ancient Greek ἀναχρονισμός (anakhronismos), from ἀναχρονίζομαι (anakhronizomai, "referring to the wrong time"), from ἀνά (ana, "up against") + χρονίζω (khronizo, "spending time"), which from χρόνος (khronos, "time").
---