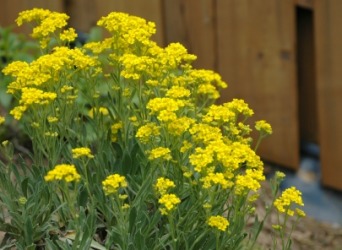 A closeup of yellow alyssum.
---
alyssum definition by Webster's New World
noun
any of a genus (Alyssum) of crucifers with white or yellow flowers and grayish leaves
sweet alyssum
Origin: Modern Latin ; from Classical Greek alysson, madwort ; from alyssos, curing madness ; from a-, without plush lyssa, madness, rage; uncertain or unknown; perhaps origin, originally , with shining eyes (see light): compare lynx
Webster's New World College Dictionary Copyright © 2010 by Wiley Publishing, Inc., Cleveland, Ohio. Used by arrangement with John Wiley & Sons, Inc.
---
alyssum definition by American Heritage Dictionary
noun
See sweet alyssum.
Any of various chiefly Mediterranean weeds or ornamentals of the genus Alyssum in the mustard family, having racemes of white or yellow flowers. Also called madwort.
See hoary alyssum.
Origin: New Latin Alyssum, genus name, from Latin alysson, kind of madder, from Greek alusson, a plant believed to cure rabies : a-, not; see a-1 + lussa, rabies; see wl̥kwo- in Indo-European roots.