noun
The definition of algae is a single or multi-cellular organism that has no roots, stems or leaves and is often found in water.

Facts About Algae

Algae are photosynthetic organisms, meaning they use sunlight and chlorophyll to make food.

At one time, algae were thought to be plants, but are not because they lack roots, stems and leaves.
They live all over the world, from the oceans to the desert, and from hot springs to snow and ice.
Many things eat algae, including: fish, sea urchins, worms, snails, sea turtles, seals, crustaceans, and even humans.
Seaweed is highly nutritious, delicious, and can be cooked with pasta, put in salads, used in meat dishes, all because of its versatility.

Examples of algae are seaweed, kelp, and red, brown and green algae.
An example of algae in the Pacific Ocean are the giant kelps which growing over 65 yards in length, forming a marine forest.
An example of algae is Alginate, made from brown algae, which is used as a thickener in many food products such as ice cream and salad dressings.
An example of algae is agar, made from red algae, which is a thickener in food products and an ingredient in time-released drugs, laxatives, shampoos and fertilizers.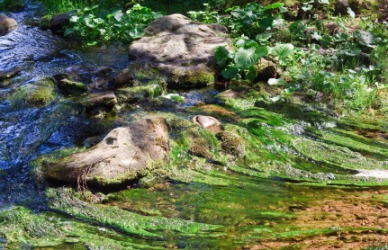 A closeup of algae covered rocks in a stream.
---
algae definition by Webster's New World
plural noun
sing.
alga
any of several divisions of simple photosynthetic organisms, esp. certain thallophytes, variously one-celled, colonial, or filamentous, containing chlorophyll and other pigments (esp. red and brown), and having no true root, stem, or leaf: algae are found in water or damp places, and include seaweeds and pond scum
Origin: plural of Classical Latin alga, seaweed ; from Indo-European base an unverified form el-, an unverified form ol-, to be moldy, putrid from source Swedish ul, rancid, Dutch uilig, rotten
Webster's New World College Dictionary Copyright © 2010 by Wiley Publishing, Inc., Cleveland, Ohio. Used by arrangement with John Wiley & Sons, Inc.
---
algae - Cultural Definition
Primitive organisms that contain chlorophyll but do not have structures, such as xylem and phloem, to transport fluids. Algae sometimes contain only a single cell, and nowadays they are not considered members of the plant kingdom.
The most familiar algae are the greenish scum that collects in still water.

Algae supply a considerable part of the world's oxygen.
The New Dictionary of Cultural Literacy Copyright © 2010 by Houghton Mifflin Harcourt Publishing Company. Published by Houghton Mifflin Harcourt Publishing Company. All rights reserved.
---
algae - Medical Definition
plural noun
Any of various chiefly aquatic, eukaryotic, photosynthetic organisms, ranging in size from single-celled forms to the giant kelp.