plankton

plank·ton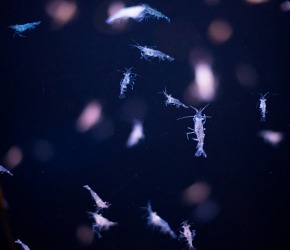 Plankton
noun
Plankton are all of the small microscopic organisms that float in the ocean, sea or other bodies of salt or fresh water.

Small crustaceans in the Atlantic ocean, along with eggs, larvae and protozoans are an example of plankton.
---
plankton
the usually microscopic animal and plant life found floating or drifting in the ocean or in bodies of fresh water, used as food by nearly all aquatic animals
Origin of plankton
German from Classical Greek
planktos,
wandering from
plazesthai,
to wander, akin to
planan:
see planet
---
plankton
noun
The small or microscopic organisms that drift or swim weakly in a body of water, including bacteria, diatoms, jellyfish, and various larvae. Plankton is an important food source for fish and other larger organisms.
Origin of plankton
German
from
Greek
neuter of
planktos
wandering
from
plazein
to turn aside
; see
plāk-
2
in Indo-European roots.
Related Forms:
---
plankton

Noun
(usually uncountable, plural planktons)
Origin
From German Plankton, coined by Viktor Hensen and derived from Ancient Greek πλαγκτός (planktos, "drifter").
---