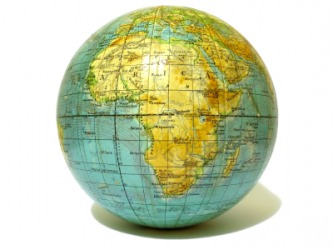 a globe showing the continent of Africa.
---
Africa
second largest continent, situated in the Eastern Hemisphere, south of Europe: c. 11,700,000 sq mi (30,303,000 sq km); pop. c. 705,000,000
Origin of Africa
Classical Latin ; from
Africa (terra)
, African (land), feminine of
Africus
; from
Afer
, an African
---
Africa
The second-largest continent, connected to Asia by the Isthmus of Suez and lying between the Mediterranean Sea and the Atlantic and Indian Oceans.
---
Africa
Proper noun
(historical) A province of the Roman Empire containing what is now modern Tunisia and portions of Libya.
The continent that is south of Europe, east of the Atlantic Ocean, west of the Indian Ocean and north of Antarctica. It holds the following countries:

The Maghreb and the Subsahara are regions of Africa with different geographies.
Central Africa

Eastern Africa

Northern Africa

Southern Africa

Western Africa
Origin
From Latin Āfrica.
See also:
África
---