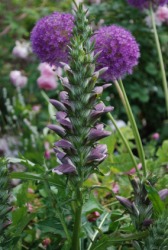 The acanthus plant is also known as bear's breech.
---
acanthus definition by Webster's New World
noun
pl. acanthuses or acanthi
any of a genus (Acanthus) of thistlelike plants of the acanthus family with lobed, often spiny leaves and long spikes of white or colored flowers, found in the Mediterranean region

Archit.

a motif or conventional representation of the leaf of this plant, used esp. on the capitals of Corinthian columns
Origin: Modern Latin ; from Classical Latin ; from Classical Greek akanthos: see acantho-
adjective
designating a family (Acanthaceae, order Scrophulariales) of dicotyledonous plants, including bear's-breech
Webster's New World College Dictionary Copyright © 2010 by Wiley Publishing, Inc., Cleveland, Ohio. Used by arrangement with John Wiley & Sons, Inc.
---
acanthus definition by American Heritage Dictionary
noun
pl.
a·can·thus·es
or
a·can·thi
Any of various perennial herbs or small shrubs of the genus Acanthus, native to the Mediterranean and having pinnately lobed basal leaves with spiny margins and showy spikes of white or purplish flowers. Also called bear's breech.
Architecture A design patterned after the leaves of one of these plants, used especially on the capitals of Corinthian columns.
Origin: New Latin Acanthus, genus name, from Greek akanthos, thorn plant, from akantha, thorn.
Related Forms: