abacus
[ab′ə kəs; occas. ə bak′əs]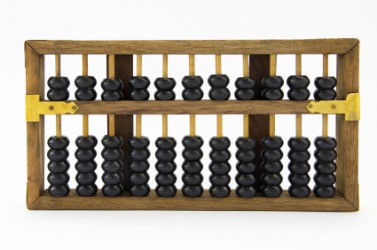 An example of an abacus used for arithmatic.
noun
The definition of an abacus is a simple device you can use to make manual mathematical calculations by sliding counters along rows of wires set inside a frame.

An example of an abacus is a child's bead counting toy.
---
abacus
---
abacus
noun
pl.
ab·a·cus·es
or
ab·a·ci
A manual computing device consisting of a frame holding parallel rods strung with movable counters.
Architecture A slab on the top of the capital of a column.
Origin of abacus
Middle English, from Latin, from Greek
abax, abak-
,
counting board
, perhaps from a Semitic source akin to Hebrew
'ābāq
,
dust
; see
ℵbq
in Semitic roots.
Word History:
The source of our word
abacus,
the Greek word
abax,
may have originated in one of the Semitic languages spoken in the ancient Near East. The Semitic word that was the source of Greek
abax
was probably akin to the Hebrew word
'ābāq,
"dust," which in postbiblical usage could also mean "sand used as a writing surface." The Greek word
abax
has as one of its senses "a board sprinkled with sand or dust for drawing geometric diagrams." Boards like this were also used for performing arithmetic calculations by moving pebbles around the board, and these early abacuses eventually developed into the abacuses with movable counters strung on rods familiar to us today. Greek
abax
was borrowed into Latin as
abacus,
and then the Latin word was borrowed into Middle English. The first known use of the word
abacus
in English, found in a Middle English work written before 1387, refers to a kind of sand-board abacus that was used according to techniques that European mathematicians adopted from the Muslim world.
abacus
---
abacus
Noun
(plural abaci or abacuses)
A calculating table or frame; an instrument for performing arithmetical calculations by balls sliding on wires, or counters in grooves, the lowest line representing units, the second line, tens, etc. [First attested in the late 17th century.]

I've heard merchants still use an abacus for adding things up in China.

(architecture) The uppermost portion of the capital of a column, immediately under the architrave. [First attested in the mid 16th century.]
A board, tray, or table, divided into perforated compartments, for holding cups, bottles, or the like; a kind of cupboard, buffet, or sideboard. [First attested in the late 18th century.]
---
abacus - Computer Definition
One of the earliest counting instruments. Similar devices predate the Greek and Roman days. It uses sliding beads in columns that are divided in two by a center bar. The top is "heaven," where each of two beads is worth 5 when moved to the center bar. The bottom is "earth," where each of five beads is worth 1 when moved toward the center. See biquinary code.
---