noun
The definition of an abacus is a simple device you can use to make manual mathematical calculations by sliding counters along rows of wires set inside a frame.

An example of an abacus is a child's bead counting toy.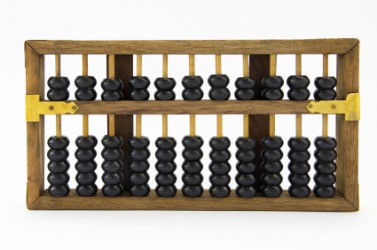 An example of an abacus used for arithmatic.
---
abacus definition by Webster's New World
Webster's New World College Dictionary Copyright © 2010 by Wiley Publishing, Inc., Cleveland, Ohio. Used by arrangement with John Wiley & Sons, Inc.
---
abacus definition by American Heritage Dictionary
noun
pl.
ab·a·cus·es
or
ab·a·ci
A manual computing device consisting of a frame holding parallel rods strung with movable counters.
Architecture A slab on the top of the capital of a column.
Origin: Middle English, from Latin, from Greek abax, abak-, counting board, perhaps from Hebrew 'ābāq, dust; see אbq in Semitic roots.
Word History:
The adjective
dusty,
with its connotations of disuse and age, might seem an appropriate word to describe the abacus, since this counting device was used for solving arithmetical problems in the days before calculators and computers. Originally the abacus was, in fact, dusty. The source of our word
abacus,
the Greek word
abax,
probably comes from Hebrew
'ābāq,
"dust," although the details of transmission are obscure. In postbiblical usage
'ābāq
meant "sand used as a writing surface." The Greek word
abax
has as one of its senses "a board sprinkled with sand or dust for drawing geometric diagrams." This board is a relative of the abacus with movable counters strung on rods that is familiar to us. The first use of the word
abacus,
recorded in Middle English in a work written before 1387, refers to a sand-board abacus used by the Arabs. The difference in form between the Middle English word
abacus
and its Greek source
abax
is explained by the fact that Middle English borrowed Latin
abacus,
which came from the Greek genitive form (
abakos
) of
abax.
abacus
The American Heritage® Dictionary of the English Language, 4th edition Copyright © 2010 by Houghton Mifflin Harcourt Publishing Company. Published by Houghton Mifflin Harcourt Publishing Company. All rights reserved.
---
abacus - Computer Definition
One of the earliest counting instruments. Similar devices predate the Greek and Roman days. It uses sliding beads in columns that are divided in two by a center bar. The top is "heaven," where each of two beads is worth 5 when moved to the center bar. The bottom is "earth," where each of five beads is worth 1 when moved toward the center. See biquinary code.