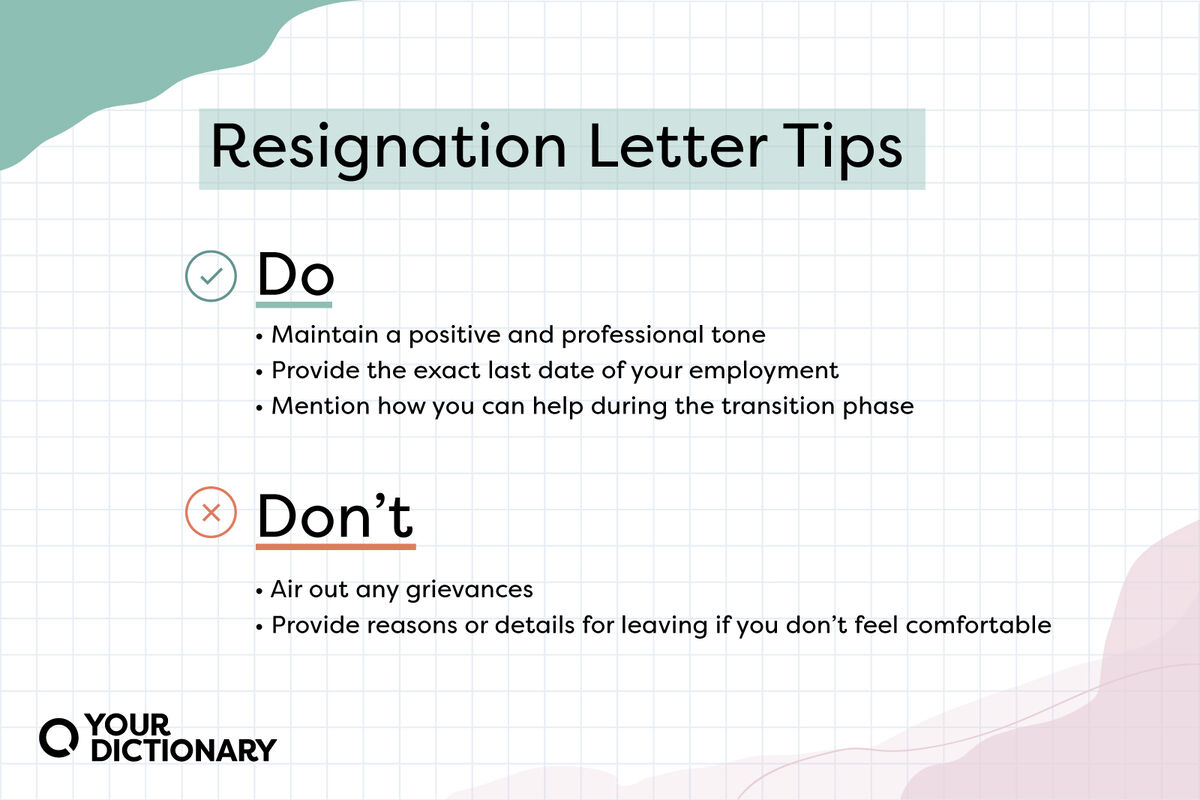 All good things come to an end. Whether you wished your boss laid off the cologne and micromanaging or simply want something more out of your career, you'll probably have to write a resignation letter at some point in your professional life.
Like breaking up or ending any sort of relationship, quitting your job can be an awkward topic to broach, but knowing how to write a resignation letter can help you maintain professionalism and keep you from unnecessarily burning bridges.
Step-by-Step: How To Write a Resignation Letter
The idea of writing a resignation letter can feel daunting, but it's really not a difficult task. Keep your letter short and simple, using a professional tone throughout.
You don't need to go into detail about why you're quitting your job or what you'll be doing next. In fact, a resignation letter is generally pretty short. Just professionally and politely convey that you have decided to resign.
Add each of the following elements to your letter, in this order.
Sender's address - Specify your name and mailing address at the top of the letter.
Date - Date the letter, leaving a blank line before and after the date.
Company address - List the company's full name and address, including the name and department of the person to whom the letter is addressed (usually your manager).
Greeting - Use a formal salutation to address your manager, such as, "Dear Mrs. Selleck:".
Body - Draft a few clear, concise body paragraphs that clearly state your intention to leave.

State clearly that the purpose of the letter is to resign your employment with the organization.
Express appreciation of the experience you gained with the company.
Indicate your last day of work, which should be at least two weeks after the date of the letter (or later if your company requires more notice).
Outline what you're willing to do to assist in the transition, such as recommending junior employees for a promotion or helping to review resumes of external candidates.
Reiterate your gratitude for the opportunity and everything you've learned.

Closing - Bring the letter to a close with a formal sign-off. Invite your manager to stay in touch for future business opportunities, and include your contact information so your manager can get in touch with you with any questions that arise after your last day.
Proofread - Review the letter to find and eliminate any errors. Verify that the tone of the document is professional.
Finalize - Print and sign the letter.
Submit - Deliver it to its intended recipient. If you are on the same worksite as the recipient, the customary practice is to hand-deliver a resignation letter. Otherwise, you can mail it, ship it, or send it via email.
Be sure to keep a copy of the resignation letter for your records, just in case you need it at a later time.
How To Write a Resignation Email
Sending a resignation email is basically the same as writing a resignation letter. If you are going to submit your letter of resignation in email format, you may need to adjust your approach slightly.
If you are attaching the full letter to the body of an email, it should be in the same format you would use for a printed letter. Save the document as a PDF so that it will appear the way you intended regardless of what type of computer or software the recipient has.
If you're putting the letter in the body of an email, you can omit the heading information at the top (your name and address, the date, and the recipient's name and address). In this case, the addresses are unnecessary, the date will automatically be added, and so will your name and that of the recipient.
Key Considerations and Tips for Writing Resignation Letters
You can include additional information beyond what is mentioned above in a resignation letter if you wish, but you mostly want to maintain a professional and positive tone. Keep the following tips in mind.
Do not air grievances about the organization in your resignation letter. If you feel that you need to provide feedback, do so in your exit interview.
If you want to include the reason you are leaving, you can. However, you are not required to do so. The decision on whether to share this information is yours.
Keep in mind that your resignation letter will become part of your personnel file. This means that what you put in it could be shared with prospective future employers who contact the company about you.
Do You Always Need a Resignation Letter?
In reality, no. There's no actual rule that says you have to provide a resignation letter. Your two-week notice could just as easily be you saying "I'm outta here in two weeks" to your manager before skateboarding out of the office.
However, we highly recommend a resignation letter for a few reasons.
It helps to maintain professionalism.
It keeps you from burning bridges or connections that could potentially benefit you in your future endeavors.
It creates a paper trail that shows exactly when you gave your notice and when you planned to leave.
Your HR department may require a written letter, even after a verbal or informal notice, to initiate the internal process.
Simple Resignation Letter Sample
So you have those important components for a resignation letter. Now you just have to put them into action. If you need help visualizing a resignation letter, don't worry, we have you covered. The simple resignation letter below incorporates the same steps specified above.
Sheila Young

123 Home Street

Austin, TX 34611

September 6, 2030

Mr. Ryan Anderson

Current Company, Inc

478 Purchase Avenue

Austin, TX 34587

Mr. Anderson:

Please accept this letter as formal notification of my resignation. Although I have tremendously enjoyed my time at Current Company, Inc., I have decided to accept a new role as Marketing Manager with Next Company, Corp. I could not have advanced to such heights without your guidance and support.

Friday, September 20, 2030 will be my last day. Please let me know how I can assist during this time of transition. I will do everything I can to make it as smooth as possible. During my remaining time with the company, I will work toward bringing all my current projects to completion and assisting with the transition in any way I can.

Thank you for your understanding. Again, I appreciate the time I spent with Current Company, Inc. I hope we can continue to stay in touch. Please feel free to reach out to me at (212) 458-1392 or syoung@email.com if I can be of assistance in the future.

With gratitude,

[Signature here]

Sheila Young
Basic Resignation Letter Template
For even further convenience, you can use this customizable template that you can edit, save, and print or attach to an email. It's a great starting point for writing a resignation letter, so consider printing it or saving it to your computer for future reference if you're not ready to go ahead and draft a resignation letter of your own right now.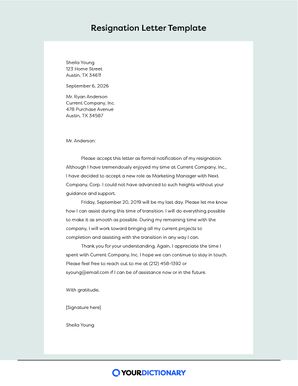 More Ideas for What To Include in a Resignation Letter
The body of a resignation letter should always be simple and to the point. The text used in the sample letter above isn't the only option. For more ideas about how to write a resignation letter, review some additional examples of appropriate wording. Feel free to use these as-is or as inspiration for unique wording.
Acknowledge Professional Development Gains
One way to express gratitude in your letter of resignation is to show appreciation for the professional development you were able to participate in as an employee of the company. That could be better organizational skills or improved customer relation abilities, but you don't need to specify.
Please accept this letter as formal notification that I am leaving [name of company] on [date]. Thank you for the professional development that this company has provided me. Please let me know if I can be of any assistance during this transition period.
Describe Your Time as "Valuable Experience"
Similarly, you might talk about the valuable experience you've had working for the company in your letter. Even the most difficult jobs have likely provided some personal or professional growth.
I am writing to inform you that I will be leaving [name of company] as of [date]. I want to thank you for the valuable experience that I have gained while working at this company. These skills have taught me to [insert what has been learned].
State Your Appreciation for Opportunities
At the very least, choosing to thank the company for the opportunities is an easy route that sort of encompasses everything without saying anything. Getting hired in any job can take all sorts of moving pieces and small miracles, so it doesn't hurt to show a little gratitude for that alone.
Effective two weeks from the date of this letter, I will be resigning from [name of company]. Thank you for the opportunities you have offered me as [position title]. I wish you and [company name] success in the future.
Share Your Enjoyment of the Job
And hey, maybe you did actually enjoy the job, your responsibilities, and the general work environment. Simply stating that you enjoyed the time you spent with the organization is a good way to keep that positivity high.
Please accept my resignation from my position as [position title], effective [date]. Thank you for the leadership you have provided me over the last [length of time at employer]. I have enjoyed working for [company name] and appreciate the support during my tenure. If I can be of any assistance during this transition, please do not hesitate to ask.
On the other hand, maybe you hated your job and all the menial tasks that you had to do. Hopefully, there were at least a few team members that you liked being around. You don't have to actually name them, but consider shining a spotlight on the wonderful colleagues or customers you worked with at the company.
I am writing to officially tender my resignation from [company] as [position title]. My last day of employment will be [date]. During my time at [company], I have worked with excellent colleagues and had many opportunities to develop my professional skills. I wish all of you the very best.
State Your Difficult Circumstances for Leaving, If You Want To
If you're leaving your job due to a family crisis or other emergency, you might want to share that in your letter. Of course, you do not have to, nor do you have to get into specifics about your personal life. However, letting the company know that you're not just leaving for more money or because you're dissatisfied could help keep the door open for potential reemployment opportunities.
Although I have enjoyed working as [position title] for [company], a recent family crisis requires that I vacate my position. My final day will be [date]. I have several junior employees in mind who I feel would be strong candidates for a promotion to my position, but I would also be happy to assist with the process of interviewing qualified external replacements. I hope we can stay in touch as business colleagues, and I look forward to working with you again if the opportunity should ever present itself.
Share Your Acceptance of Another Job, If You Want To
If you're moving on with your career with another organization, you may choose to include this information in your letter. Remember, though, you are under no obligation to share this information, especially if you think it can be used against you in some way.
I am writing to formally notify you of my resignation from my position as [position title] with [company name]. I have been offered a new role as a [new position] with [new employer's name] and have decided to take their offer. My last day of employment with [company name] will be [date]. I appreciate your support and understanding. In the future, I can be reached at [email] or [phone number].
Basic Template for Formatting Formal Letters
Even though resignation letters are short, they are still formal business communication letters. Use the visual guide below to help you properly set up a resignation letter, as well as any other formal correspondence you need to create.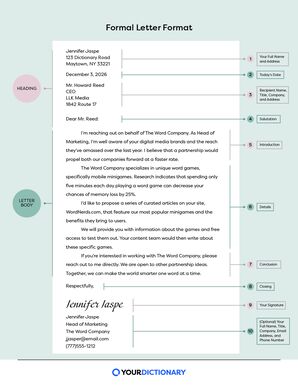 No matter what industry you're in, a formal resignation letter or email is the most professional way to leave your current position. With a brief yet polite correspondence, you'll preserve the relationships built during your tenure with the company and help ensure that you're likely to receive a positive reference in the future.
If you're resigning from your current position without a firm job offer in hand, take some time to explore sample cover letters.