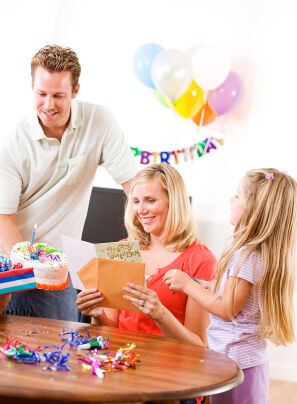 Birthdays are one of life's milestones that can inspire all kinds of contemplation and observation. There are many fun and interesting birthday related quotes from famous writers, artists, politicians and celebrities. Here are some of our favorites.
Words for Birthday Wishes
Here are some great birthday quotes from famous celebrities and notable individuals over the years.
"And in the end, it's not the years in your life that count. It's the life in your years." - Abraham Lincoln
"Age is whatever you think it is. You are as old as you think you are." - Muhammad Ali
"If we could be twice young and twice old we could correct all our mistakes." - Euripides
"Age is a case of mind over matter. If you don't mind, it don't matter." - Satchel Paige
"The great thing about getting older is that you don't lose all the other ages you've been." - Madeleine L'Engle
"May you live as long as you want and never want as long as you live." - Irish Blessing
"The more you praise and celebrate your life, the more there is in life to celebrate." - Oprah Winfrey
"With mirth and laughter let old wrinkles come." - William Shakespeare
"The secret of staying young is to live honestly, eat slowly, and lie about your age." - Lucille Ball
"It takes a long time to become young." - Pablo Picasso
"Every birthday is a gift. Every day is a gift." - Aretha Franklin
"No wise man ever wished to be younger." - Jonathan Swift
"May you live to be 100 and may the last voice you hear be mine." - Frank Sinatra
"My best wishes may be early but I'm not sticking around. To bake a cake for your birthday while you're out runnin' around. She can help you celebrate may she bring you lots of cheer. Happy Birthday, Merry Christmas and Happy New Year." - Loretta Lynn
"You know you're getting old when the candles cost more than the cake." - Bob Hope
"A birthday is just another day where you go to work and people give you love. Age is just a state of mind, and you are as old as you think you are. You have to count your blessings and be happy." - Abhishek Bachchan
"A birthday is just the first day of another 365-day journey around the sun. Enjoy the trip!" - Unknown
"Go, go, go, go go, go, go, shawty. It's your birthday. We gon' party like it's yo birthday." - 50 Cent
"Just remember, once you're over the hill you begin to pick up speed." - Charles Schulz
"The best birthdays of all are those that haven't arrived yet." - Robert Orben
"Live not one's life as though one had a thousand years, but live each day as the last." - Marcus Aurelius
"All the world is birthday cake, so take a piece, but not too much." - George Harrison
"They say it's your birthday. We're gonna have a good time. I'm glad it's your birthday. Happy birthday to you." - The Beatles
"Youth is happy because it has the ability to see beauty. Anyone who keeps the ability to see beauty never grows old." - Franz Kafka
"Age is strictly a case of mind over matter. If you don't mind, it doesn't matter." - Jack Benny
Looking for words of wisdom or words to express well wishes on the occasion of someone making it around the sun one more time? See more birthday quotes from all sorts of colorful individuals.