zincy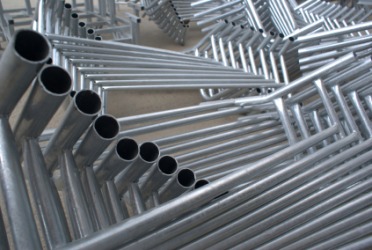 These galvanized rods are zincy.
adjective
The definition of zincy is seeming like the bluish-white element called zinc.

An example of something zincy is a piece of galvanized iron.
---
zincy
Adjective
(comparative more zincy, superlative most zincy)
containing zinc.
---
zincy
Variant of zinc
noun
a bluish-white, metallic chemical element, usually found in combination, used as a protective coating for iron, as a constituent in various alloys, as an electrode in electric batteries, and, in the form of salts, in medicines: symbol, Zn; at. no., 30
Origin of zinc
German
zink,
zinc, origin, originally , prong, point: first used by Philippus Aureolus Paracelsus (
c.
1526): from the form of the crystals on smelting; akin to Old High German
zint,
a point, jag ; from Germanic an unverified form
tindja
from source tine