wildfire

wild·fire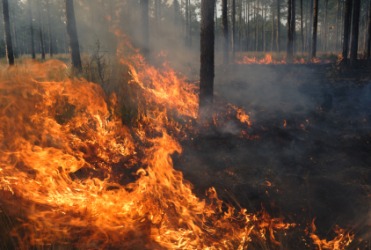 A wildfire in a forest.
noun
The definition of a wildfire is a rapidly spreading forest or brush fire.

When someone drops a match in the forest and the trees start to flame and the fire spreads quickly, this is an example of a wildfire.
---
wildfire
Obs.

a highly destructive fire
a highly flammable substance; specif., Greek fire

Now Rare

will-o'-the-wisp
a large, intense fire, usually in an uninhabited area, that is difficult to bring under control
spread like wildfire
to be disseminated widely and rapidly: said as of a rumor
---
wildfire
noun
A raging, rapidly spreading fire.
Something that acts very quickly and intensely: a land swept by the wildfire of revolution.
Lightning occurring without audible thunder.
A luminosity that appears over swamps or marshes at night; ignis fatuus.
A highly flammable material, such as Greek fire, once used in warfare.
---
wildfire

---