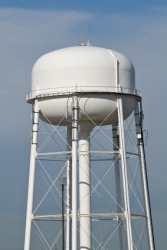 An example of a water tower.
---
water tower
an elevated tank used for water storage and for maintaining equalized pressure on a water system
☆ a firefighting apparatus that can be used to lift high-pressure hoses and nozzles to great heights
---
water tower
noun
A standpipe or elevated tank used as a reservoir or for maintaining equal pressure in a water system.
A firefighting apparatus for lifting hoses to the upper levels of a tall structure.
---
water tower
Noun
(plural water towers)
A large tank of water, in an elevated position, acting as a local reservoir; water is pumped into the tank and fed by gravity to the consumers.
(archaic) A large metal pipe made to be extended vertically by sections, and used for discharging water upon burning buildings.
---