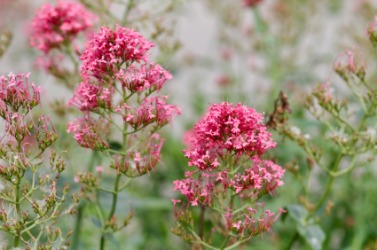 The valerian plant.
---
valerian
noun
any of a genus (Valeriana) of plants of the valerian family, with clusters or spikes of white, pink, red, or purplish flowers
a drug made from the dried rhizomes and roots of the garden heliotrope, formerly used as a sedative and antispasmodic
Origin of valerian
Middle English ; from Middle French
valériane
; from Medieval Latin
valeriana,
valerian, probably after
Valeria,
province in Pannonia, where the plants were grown
adjective
designating a family (Valerianaceae, order Dipsacales) of dicotyledonous plants, chiefly of the Northern Hemisphere, including corn salad and spikenard
(L. name Publius Licinius Valerianus) 190?-260; Rom. emperor (253-260)
---
valerian
noun
Any of several plants of the family Valerianaceae, especially Valeriana officinalis, native to Eurasia and widely cultivated for its small, fragrant, white to pink or lavender flowers and for use in medicine.
The dried rhizomes of Valeriana officinalis, used medicinally as a sedative.
Origin of valerian
Middle English, from Old French
valeriane
, from Medieval Latin
valeriāna
, probably from feminine of Latin
Valeriānus, of Valeria, Roman province where the plant originated
.
Originally Publius Licinius Valerianus. Died c. AD 260.
Emperor of Rome (253–260) who, as coruler with his son Gallienus (c. 218–268), confronted invasions by the Goths and Persians. He was captured and killed by Persian forces (260).
---
valerian
Noun
(plural valerians)
A hardy perennial flowering plant, Valeriana officinalis, with heads of sweetly scented pink or white flowers.
More generally, any plant of the genus Valeriana.
(uncountable) The root of Valeriana officinalis, used in herbal medicine.
Proper noun
a Roman cognomen, notably borne by Publius Licinius Valerianus, a Roman emperor
Proper noun
A Russian male given name
Origin
From Russian Валериа́н (Valerián).
---