noun
The definition of a tatter is a shredded rag or torn piece of clothing.

An example of a tatter is a castaway's clothing after three months on a desert island.
verb
Tatter is to shred, or leave in rags.

A child tearing up a pair of pants while they play roughly at the park is an example of tatter.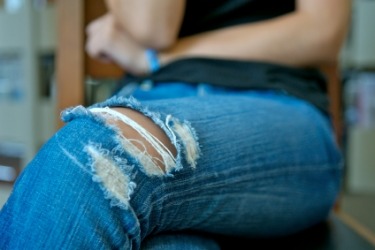 A girl wearing tattered jeans.
---
tatter definition by Webster's New World
noun
a torn and hanging shred or piece, as of a garment
a separate shred or scrap; rag
torn, ragged clothes
Origin: Middle English probably ; from Old Norse töturr, rags, tatters, akin to German zotte, tuft ; from Indo-European base an unverified form dā(i)-, to cut out, divide from source tide
transitive verb
to reduce to tatters; make ragged
intransitive verb
to become ragged
Webster's New World College Dictionary Copyright © 2010 by Wiley Publishing, Inc., Cleveland, Ohio. Used by arrangement with John Wiley & Sons, Inc.
---
tatter definition by American Heritage Dictionary
noun
A torn and hanging piece of cloth; a shred.
tatters Torn and ragged clothing; rags.
tr. & intr.v.
tat·tered
,
tat·ter·ing
,
tat·ters
To make or become ragged.
Origin: Middle English tater, of Scandinavian origin.
noun
One that makes tatting, especially as a livelihood.