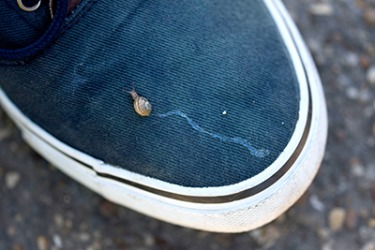 The boy looked down and saw a snail sliming the top of his shoe.
verb
Sliming is defined as covering with a soft, moist, slippery and sometimes sticky matter.

An example of sliming are for snails to leave sticky trails after crawling across a sidewalk.
---
sliming

Noun
(plural slimings)
The action of coating with slime, or an instance of doing this.
(figuratively) The action of besmirching or disparaging another.
Verb
Present participle of slime.
---