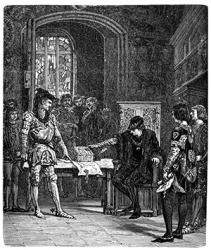 France was the signatory as well as England in the Treaty of Péronne in 1468.
adjective
The definition of signatory is being bound by the signing of a document.

An example of signatory is the person who signed a rental agreement and is responsible for the rent.
noun
Signatory is defined as any of the people that signed a document.

An example of a signatory is a person who signed a contract.
---
signatory
that has joined in the signing of something
Origin of signatory
Classical Latin
signatorius
, of sealing, of a signer from
signator
, one who seals or signs from
signare
, to set a seal upon, sign: see sign
noun
pl.
-·ries
any of the persons, states, etc. that have signed a document
---
signatory
adjective
Bound by signed agreement: the signatory parties to a contract.
noun
pl.
sig·na·to·ries
One who has signed a contract or other legal document as a party.
A country that is a party to a treaty.
Origin of signatory
Latin
signātōrius
from
signātus
past participle of
signāre
to mark
from
signum
sign
; see
sign
.
---
signatory

Noun
(plural signatories)
One who signs or signed something.

John Hancock is famous for being the first signatory to the American Declaration of Indepence, and for writing his name large.
Adjective
(not comparable)
Relating to a seal; used in sealing.

Signing; joining or sharing in a signature.

signatory powers
Origin
From Latin signatorius.
---