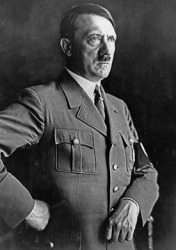 German soldiers and officers would proclaim, "Sieg Heil" while saluting Hitler.
interjection
Sieg Heil is defined as German for hail to victory and a verbal salute used by the Nazis.

An example of Sieg Heil is how Hitler and his followers saluted each others.
---
Sieg Heil
hail to victory: a Nazi salute
Origin of Sieg Heil
German
---
sieg-heil

Phrase
Sieg Heil
The greeting Sieg Heil, used in the Third Reich during the Nazi era and by neo-Nazis today.
---