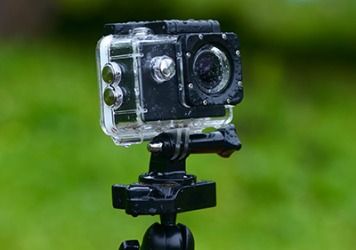 The action camera is shockproof and waterproof.
adjective
The definition of shockproof is someone who is not easily surprised or shocked, or items that are not easily broken when dropped.

An electronic item that has been designed to withstand being dropped is an example of an item that would be described as shockproof.
A high school teacher who has seen a lot of strange behavior in the many years of his teaching and doesn't get surprised easily is an example of someone who is shockproof.
---
shockproof
able to absorb shock without being damaged: a shockproof watch
---
shockproof
adjective
Constructed or designed to withstand blows or jarring.
---
shockproof

Adjective
(comparative more shockproof, superlative most shockproof)
Made sturdily enough to withstand knocks and shocks without being damaged.

My shockproof watch stood up to everything it reasonably could be expected to and kept ticking; but dropping it down an elevator shaft is asking too much.

Protected from imparting electric shocks.
Verb
(third-person singular simple present shockproofs, present participle shockproofing, simple past and past participle shockproofed)
To protect from imparting electric shocks.
---