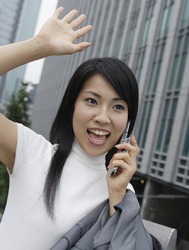 Misaki said, "Sayonara" to her friends when she left for the airport.
interjection
Sayonara is defined as goodbye in Japanese.

When you are leaving a party and you want to shout goodbye to everyone, this is an example of a time when you would say "sayonara!"
---
sayonara
goodbye; farewell
Origin of sayonara
Jpn, literally , if it is to be that way from
say?
, that way +
nara
, if
---
sayonara
interjection
Used to express farewell.
Origin of sayonara
Japanese
sayonara, sayōnara
alteration of
sayō naraba
if be thus (said to indicate that the time for departure has come)
sayō
thus
(
sa
that
) (
yō
appearance
) (
from
Middle Chinese
jiang`
) (
also the source of
Mandarin
yang`
)
naraba
if it be
---
sayonara

---