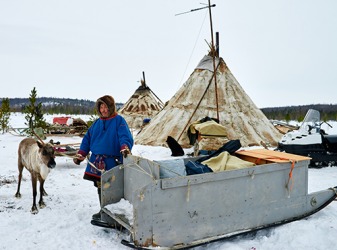 Nenets speak the Samoyed language and are the nomadic indigenous people of Siberia.
noun
Samoyed is a member of a tribe or group of nomads in Siberia, or is a language spoken by people in these tribes, or a white dog of arctic breeding.

A member of a Siberian tribe is an example of a Samoyed.
The language spoken by a Siberian tribe is an example of Samoyed.
A white, arctic dog is an example of a Samoyed.
---
Samoyed
a member of a group of peoples living in N Siberia and the Taimyr Peninsula
any of a group of Uralic languages spoken by the Samoyeds
any of a breed of strong working dog with a thick, white coat, erect ears, and a tail rolled over the back: developed in Siberia as a sled dog
Origin of Samoyed
Russian
samoed
from self-designation of the
Sami
, or Lapps
of the Samoyeds or their languages or culture
Also sp. (for Samoyednoun- & adjective)
Sam′o·yede·
---
Samoyed
noun
a. A subdivision of the Uralic language family of extreme northwestern Russia that includes Nenets.

b. Nenets. No longer in technical use.

A dog of a medium-sized breed developed in northern Eurasia as a sled dog, having a thick white coat and a bushy tail carried over the back.
Origin of Samoyed
Obsolete Russian
samoyed
Nenets person, member of a people speaking a Samoyedic language
from alteration of
samod, samoyad
(
taken as
samo-
self
; see
samovar
. ) (
-ed
eater
; see
ed-
in Indo-European roots.)
of unknown origin
Related Forms:
---
samoyed

Noun
(plural samoyeds)
Alternative capitalization of Samoyed (dog)
---