Sagittarius
Sag·it·tar·i·us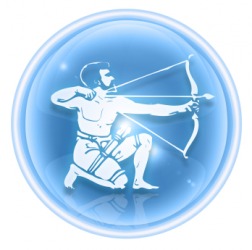 The symbol for Sagittarius.
noun
The definition of Sagittarius is a constellation located between Scorpio and Capricorn.

Facts About Sagittarius

The constellation Sagittarius is located at right ascension = 19 hours 5 min 30 sec and declination = -28° 27' 18" degrees.
This constellation consists of a number of different stars; however, there are three main stars that form a curved line that too many resembles a bow.
It is best seen by people in the Northern Hemisphere during the summer months and people in the Southern Hemisphere during the winter months.
In Greek mythology, Sagittarius represented a centaur, who was half man and half horse.
It is believed that the Romans named the constellation Sagittarius because the beginning of the name "sagitta" means arrow in Latin.
Many observers see a teapot in the constellation, but it was the archer's bow and arrow which was first seen when the constellation was named.

An example of Sagittarius is the astrological sign of those born between November 23 and December 22.
---
Sagittarius
a large S constellation in the brightest part of the Milky Way, beyond which lies the center of our galaxy; the Archer
the ninth sign of the zodiac, entered by the sun about November 21
a person born under this sign
Origin of Sagittarius
Middle English from Classical Latin
sagittarius
, archer from
sagitta
, arrow
---
Sagittarius
noun
A constellation in the Southern Hemisphere near Scorpius and Capricorn.

a. The ninth sign of the zodiac in astrology.

b. One who is born under this sign. Also called In all senses also called Archer .
Origin of Sagittarius
Middle English
from
Latin
Sagittārius
from
sagittārius
archer
from
sagitta
arrow
---
sagittarius

Noun
(plural Sagittariuses)
Someone with a Sagittarius star sign
Origin
From Latin sagittārius ("archer").
---