reciprocity

rec·i·proc·i·ty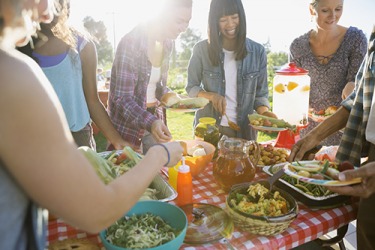 It's always a huge feast when the group of friends get together for a potluck picnic because of their mutual reciprocity in which everyone brings an amazing dish.
noun
Reciprocity is mutual exchange in a relationship.

An example of reciprocity is a group of friends who always bring food or drink when they visit one another's homes.
---
reciprocity
noun
pl.
-·ties
reciprocal state or relationship; mutual action, dependence, etc.
mutual exchange; esp., exchange of special privileges between two countries, to the advantage of both, as mutual reduction of tariffs
Origin of reciprocity
French
réciprocité
---
reciprocity
noun
pl.
rec·i·proc·i·ties
A reciprocal condition or relationship.
A mutual or cooperative interchange of favors or privileges, especially the exchange of rights or privileges of trade between nations.
---
reciprocity

---
reciprocity - Legal Definition
n
An agreement or relationship between states, or localities, where special advantages are bestowed upon citizens of A by B in exchange for similar advantages being bestowed on citizens of B by A. For example, State A may allow attorneys who are properly licensed in State B to become licensed in State A without taking a bar examination, if State B affords the same privilege to lawyers who are properly licensed in State A.
---