recessive

re·ces·sive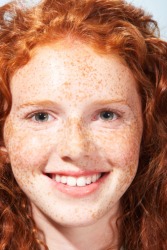 Red hair is a recessive gene but freckles are a dominant gene.
adjective
The definition of recessive is going back to a former state.

An example of something recessive is a third grade student doing first grade math.
noun
Recessive is defined as a gene with characteristics which are not as strong as those on a dominant gene.

An example of a recessive is the gene for blue eyes.
---
recessive
receding or tending to recede

Genetics

designating or relating to that one of any pair of allelic hereditary factors which, when both are present in the germ plasm, remains latent
Origin of recessive
from Classical Latin
recessus
(see recess) + -ive
Genetics
a recessive character or characters
---
recessive
adjective
Tending to go backward or recede.

a. Genetics Of, relating to, or designating an allele that does not produce a characteristic effect when present with a dominant allele.

b. Of or relating to a trait that is expressed only when the determining allele is present in the homozygous condition.
noun
Genetics
A recessive allele or trait.
An organism having a recessive trait.
Related Forms:
---
recessive

Adjective
(comparative more recessive, superlative most recessive)
Going back; receding.
(genetics) Able to be covered up by a dominant trait.
---