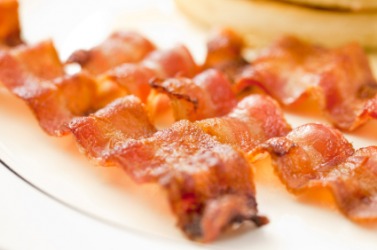 A rasher of bacon.
noun
The definition of a rasher is a portion or slice of bacon or ham.

An example of a rasher is the three slices of bacon served with an English breakfast.
---
rasher
a thin slice of bacon or, rarely, ham, for frying or broiling
a serving of several such slices
Origin of rasher
from uncertain or unknown; perhaps obsolete
rash,
to cut from Old French
raser:
see raze
---
rasher
noun
A thin slice of fried or broiled bacon.
A dish or an order of thin slices of fried or broiled bacon.
Origin of rasher
Origin unknown
---
rasher

---