raga

ra·ga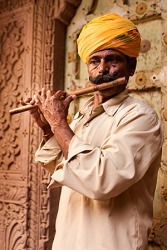 The musician played familiar raga tunes with his treasured flute.
noun
Raga is defined as a large group of traditional melody patterns used by Hindu musicians.

An example of raga is what a Hindu musician may play as the starter melody before some musical improvisation.
---
raga
any of a large number of traditional melody patterns with characteristic intervals, rhythms, and embellishments, used by Hindu musicians as source material for improvisation
Origin of raga
Sanskrit
r?ga,
literally , color, akin to
rajayati,
(he) dyes from Indo-European base an unverified form
reg-,
to color from source Classical Greek
rhegma,
dyed material
---
raga
noun
A traditional melodic type in Hindu music, consisting of a theme that expresses an aspect of religious feeling and sets forth a tonal system on which variations are improvised within a prescribed framework of typical progressions, melodic formulas, and rhythmic patterns.
Origin of raga
Sanskrit
rāgah
color, musical mode
---
raga

Noun
(plural ragas)
The melodic mode used in Indian classical music.
Passion, love, lust; in Buddhist mythology, a daughter of the demon Mara that personifies these qualities.
Origin
Anglicised form of Sanskrit राग (rāga)
See also:
ragā
---