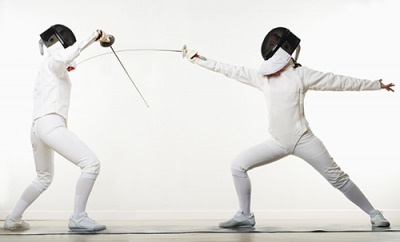 Quarte position
noun
Quarte is a defensive position in fencing with the sword at eye level and the tip at the neck level of your opponent.

An example of quarte is a stance used when thrusting or parring.
---
quarte
Fencing
the fourth position (of thrust or parry) in which the hand is turned nails up, and the point of the weapon is about eye level
Origin of quarte
Fr, feminine of
quart,
fourth
---
quarte

Noun
(fencing) The fourth defensive position, with the sword hand held at chest height, and the tip of the sword at neck height.
---