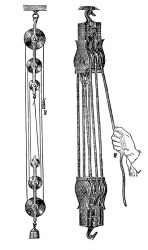 A diagram of a pully
noun
The definition of a pully is a simple machine that increases mechanical advantage.

Facts About Pulleys

A pulley redirects and increases the force applied to a load which makes it easier to move.
Pulleys can either be fixed, mobile, or a combination of the two.
When you put two or more wheels together, and run a rope around them, you have created a pulley and a great lifting machine. If there are four wheels, you can lift four times as much.

An example of a pully is a longer handle on a screwdriver which increases the distance and reduces the force needed.
An example of a pully is a bulldozer.
---
pully

Noun
(plural pullies)
(informal) pullover
---