pow wow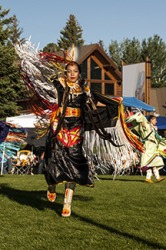 Native American women dancing in a ceremony.
noun
The definition of a pow wow is a gathering or ceremony that includes dancing to tell living stories which are passed down through the generations. Alternative spellings are

powwow

and

pow-wow

.

An example of a pow wow is the annual Fort Omaha Intertribal Pow Wow which is held in Omaha, Nebraska.
---
pow-wow
Noun
(plural pow-wows)
Alternative spelling of powwow.
---