pinking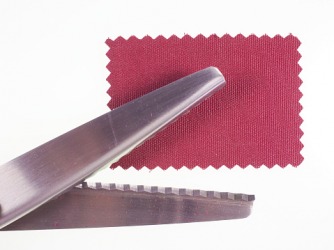 A piece of fabric cut with pinking shears.
adjective
The definition of pinking is zigzag cuts in fabric or wood.

An example of pinking is a pair of scissors that cut a zigzag pattern, known as "pinking shears."
verb
Pinking is defined as using the color pink to bring awareness to breast cancer, represented by the color pink.

An example of pinking is a football team wearing pink uniforms for a game during Breast Cancer Awareness Month.
---
pinking

Verb
Present participle of pink.
---