percutaneous
per·cu·ta·ne·ous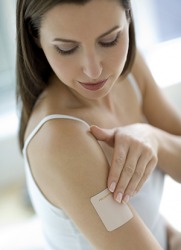 Evelyn applied the percutaneous nicotine patch to help her kick her habit of smoking cigarettes.
adjective
The definition of percutaneous is something passed or made effective through the skin.

An example of percutaneous is lotion rubbed into the skin.
---
percutaneous
effected or introduced through the skin, as by rubbing, injection, etc.
Origin of percutaneous
per- + cutaneous
---
percutaneous
adjective
Medicine
Passed, done, or effected through the skin.
Related Forms:
per′cu·ta′ne·ous·ly

adverb
---
percutaneous

Adjective
(comparative more percutaneous, superlative most percutaneous)
Taking place through the skin
---