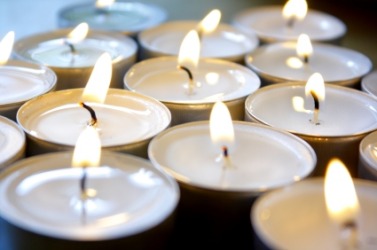 Paraffin candles.
---
paraffin
noun
a white, waxy, odorless, tasteless solid substance consisting of a mixture of straight-chain, saturated hydrocarbons: it is obtained chiefly from the distillation of petroleum and is used for making candles, sealing preserving jars, waterproofing paper, etc.

Chem.

any alkane

Brit.

kerosene
Origin of paraffin
German ; from Classical Latin
parum,
too little +
affinis,
akin (see affinity): from its chemical inertness
transitive verb
to coat or impregnate with paraffin
---
paraffin
noun
A waxy white or colorless solid hydrocarbon mixture used to make candles, wax paper, lubricants, and sealing materials. Also called paraffin wax.
Chemistry A member of the alkane series.
Chiefly British Kerosene.
transitive verb
par·af·fined
,
par·af·fin·ing
,
par·af·fins
To saturate, impregnate, or coat with paraffin.
Origin of paraffin
German : Latin
parum
,
little, not very
; see
pau-
1
in Indo-European roots + Latin
affīnis
,
associated with (from its lack of affinity with other materials)
; see
affined
.
Related Forms:
---
paraffin
Noun
(plural paraffins)
(chemistry) Any member of the alkane hydrocarbons.
Verb
(third-person singular simple present paraffins, present participle paraffining, simple past and past participle paraffined)
To impregnate or treat with paraffin
Origin
Latin paraffinum from parum (too little) + affinis (related, affinity). Therefore low affinity or being chemically neutral
---