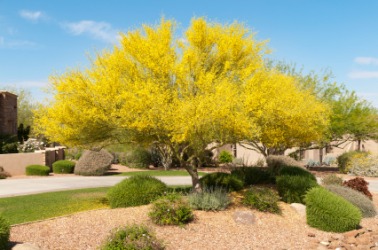 A palo verde in bloom.
---
palo verde definition by American Heritage Dictionary
or pa·lo·ver·de
noun
A spiny, nearly leafless, bushy tree (Cercidium floridum syn. Parkinsonia florida) of the southwest United States, having showy yellow flowers and blue-green bark.
Any of several similar or related shrubs.
Origin: American Spanish : Spanish palo, tree (from Latin pālus, stake; see pale1) + Spanish verde, green (from Latin viridis).