noun
The definition of an orchid is a blooming plant with waxy leaves, or the flower of the plant used as a floral decoration.

An example of an orchid is the yellow bloom known as a Dancing Lady orchid.
An example of an orchid is the pink plant used as a corsage for a prom date.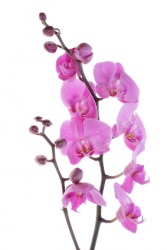 Lovely orchids.
---
orchid- definition by Webster's New World
noun
a perennial plant of the orchid family, that grows in the ground or as an epiphyte and is characterized by waxy pollen masses, minute seeds, and bilaterally symmetrical flowers with three petals, one of which is lip-shaped with many distinctive forms
the flower of such a plant; esp., any of the brightly colored tropical varieties cultivated for wear as a corsage
a light bluish red, or pale purple
Origin: ; from Modern Latin Orchideae: so named (1751) by Carolus Linnaeus ; from an unverified form orchid-, mistaken as stem of Classical Latin orchis: see orchis
adjective
of this color
designating a worldwide family (Orchidaceae, order Orchidales) of monocotyledonous plants
Webster's New World College Dictionary Copyright © 2010 by Wiley Publishing, Inc., Cleveland, Ohio. Used by arrangement with John Wiley & Sons, Inc.
---
orchid- definition by American Heritage Dictionary
noun
a. A member of the orchid family.

b. The flower of any of these plants, especially one cultivated for ornament.

A pale to light purple, from grayish to purplish pink to strong reddish purple.
Origin: From New Latin Orchideae, family name, from Latin orchis, a kind of orchid, from Greek orkhis, testicle, orchid (from the shape of its tubers).
Related Forms:
orchid-
Variant of orchido-
testicle: orchidotomy
orchid: orchidology
Origin: ; from an unverified form orchidos, mistaken as genitive of Classical Greek orchis, testicle: see orchis