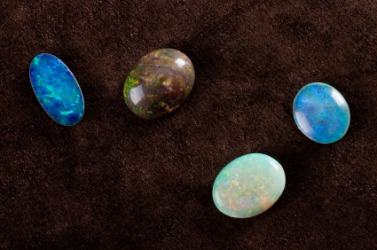 Different types of opals.
---
opal
noun
an amorphous, iridescent mineral, SiO·n HO, of various colors, often used as a gem; hydrous silicon oxide
Origin of opal
Classical Latin
opalus
; from Classical Greek
opallios
; from Sanskrit
úpalaḥ,
(precious) stone
---
opal
noun
A mineral of hydrated silica.
A gemstone made of this mineral, noted for its rich iridescence.
Origin of opal
Middle English
opalus
, from Latin, alteration of Greek
opallios
, probably from Sanskrit
upala&hlowdot;
, from variant of
upara-
,
lower
, from
upa
,
below
; see
upo
in Indo-European roots.
Related Forms:
---
opal
---
opal - Computer Definition
The original name of software from Computer Associates that converts legacy output from mainframes and minicomputers into a graphical-based format. Now part of their Advantage Integration Server suite, the technology provides the development environment and supports 3270, 5250 and VT220 terminals and ODBC-compliant databases. Development can be done by drag and drop or by scripting in OpalScript or VBScript. A Telnet connection to the mainframe is provided and maintains a connection to the desktop allowing the Web browser or a Windows client with the software to have access to the newly formatted data. See green screen.
---