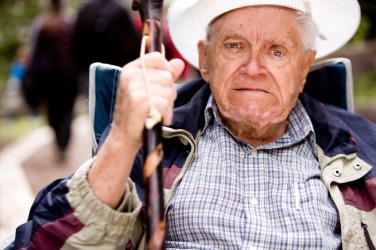 You might call him an old fogey.
noun
The definition of an old fogey is a derogatory term often used to refer to older or elderly people who are no longer act in current socially-acceptable ways or who are not aware of what is hip but instead who are out of touch with contemporary thought and activities. The term can also be used to describe a younger person to imply that they are acting old and no fun.

An example of an old fogey is a grumpy old man who yells at kids on the street.
---
old-fogey

Origin
In 1811, an Old Fogey was a nickname for an invalid, wounded soldier; derived from the French word fougueux (fierce or fiery).
---