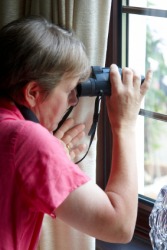 A very nosey neighbor.
adjective
The definition of nosey is someone who is overly curious and who gets too involved in other people's business.

An example of nosey is a nosey person who reads someone else's mail because he is curious about what the person received.
---
nosey
adjective
nos′i·er

,

nos′i·est
---
nosey
---
nosey

Adjective
(comparative nosier, superlative nosiest)
Alternative spelling of nosy.
---