moccasin

moc·ca·sin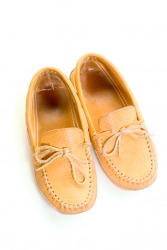 A pair of leather moccasins.
noun
The definition of a moccasin is a soft slipper made of leather, or a slipper or shoe that is very similar.

An example of a moccasin is a shoe a person may wear around the house.
---
moccasin
a heelless slipper of soft, flexible leather, worn orig. by North American Indians
any slipper more or less like this but with a hard sole and heel
water moccasin
Origin of moccasin
from Amerindian (Algonquian), as in Narragansett
mokussin,
Massachusett
mohkisson
---
moccasin
noun
A soft leather slipper traditionally worn by certain Native American peoples.
Footwear resembling such a slipper.
A water moccasin.
Origin of moccasin
Of Virginia Algonquian origin
akin to
Powhatan
mäkäsĭn
shoe
and
Ojibwa
makisin
moccasin
late 19th-century to early 20th-century Cheyenne beaded moccasins
---
moccasin

Noun
(plural moccasins)
A kind of shoe with low heels, with the top sides stitched upwards.
A Native North American shoe made of deerskin.
A light beige colour, like that of a moccasin.

Any of several North American snakes of the genus Agkistrodon.
Origin
From Powhatan mockasins, mawhcasuns (plural).
---