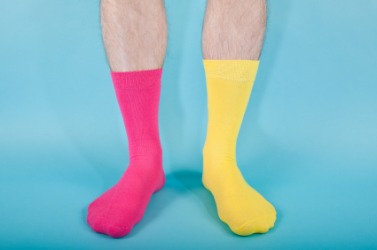 A mismatched pair of socks.
noun
The definition of mismatch is something that was not correctly paired.

An example of a mismatch is two people on a date who do not get along.
verb
Mismatch is defined as for things that are similar to not be put together correctly.

An example of mismatch is to incorrectly sort two pairs of socks.
---
mismatch
to match badly or unsuitably
a bad or unsuitable match
---
mismatch
noun
An unsuitable match or a lack of correspondence.
transitive verb
mis·matched, mis·match·ing, mis·match·es
To match unsuitably or badly.
---
mismatch

Verb
(third-person singular simple present mismatches, present participle mismatching, simple past and past participle mismatched)
To match unsuitably; to fail to match
Origin
mis- + match (verb)
Origin
mis- + match (noun)
---