interjection
The definition of mazel tov is the Hebrew expression of congratulations.

An example of mazel tov is what is said after a Jewish wedding.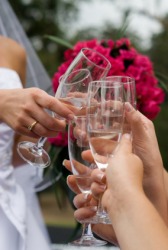 Mazel tov is what would be said at a Jewish wedding.
---
mazel tov definition by Webster's New World
interjection
used to express congratulations
Origin: Classical Hebrew (language) (often via Yiddish) ; from māzal, luck plush tōv, good
Webster's New World College Dictionary Copyright © 2010 by Wiley Publishing, Inc., Cleveland, Ohio. Used by arrangement with John Wiley & Sons, Inc.
---
mazel tov definition by American Heritage Dictionary
also ma·zal tov
interjection
Used to express congratulations or best wishes.
Origin: Mishnaic Hebrew mazzāl ṭôb, good luck : mazzāl, constellation, destiny (ultimately from Akkadian manzaltu, mazzaztum, position of a star, from izuzzu, to stand; see ḏwḏ1 in Semitic roots) + ṭôb, good; see ṭyb in Semitic roots.