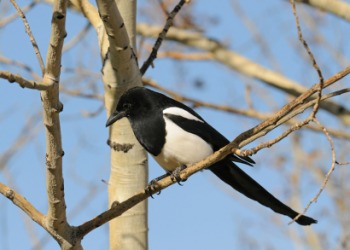 A black billed magpie.
---
magpie
noun
any of several jaylike corvids, passerine birds characterized by black-and-white coloring, a long, tapering tail, and a habit of noisy chattering
a person who chatters
a person who collects odds and ends
Origin of magpie
; from
Mag,
diminutive of Margaret + pie
---
magpie
noun
Any of various birds of the family Corvidae having a long tail and black, blue, or green plumage with white markings, and noted for their chattering call, especially Pica hudsonia, of western North America, and P. pica, of Eurasia and Africa. Also called pie2.
Any of various birds that resemble the magpie.
A person who chatters.
One who compulsively collects or hoards small objects.
Origin of magpie
Mag
,
a name used in proverbs about chatterers
(a nickname for
Margaret
) +
pie
2
.
---
magpie
Noun
(plural magpies)
A superficially similar Australian bird, Gymnorhina tibicen.
Someone who displays a magpie-like quality such as collecting, or committing robbery.
(slang) Fan or member of Newcastle United F.C.
---