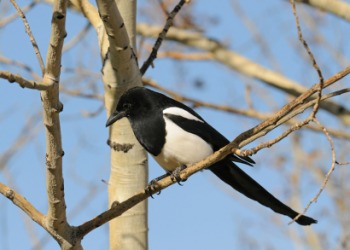 A black billed magpie.
---
magpie definition by Webster's New World
noun
any of several jaylike corvids, passerine birds characterized by black-and-white coloring, a long, tapering tail, and a habit of noisy chattering
a person who chatters
a person who collects odds and ends
Origin: ; from Mag, diminutive of Margaret plush pie
Webster's New World College Dictionary Copyright © 2010 by Wiley Publishing, Inc., Cleveland, Ohio. Used by arrangement with John Wiley & Sons, Inc.
---
magpie definition by American Heritage Dictionary
noun
Any of various birds of the family Corvidae found worldwide, having a long graduated tail and black, blue, or green plumage with white markings and noted for their chattering call. The species Pica pica, the black-billed magpie, is widespread in the Northern Hemisphere. Also called pie2.
Any of various birds resembling the magpie, such as the Australian bell magpie of the family Cracticidae.
A person who chatters.
One who compulsively collects or hoards small objects.
Origin: Mag, a name used in proverbs about chatterers (a nickname for Margaret) + pie2.