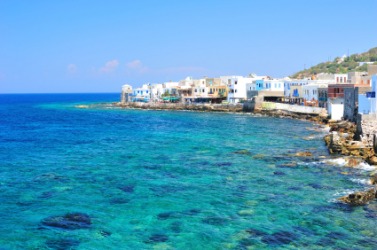 Seascape on the island of Kos.
noun
The definition of a kos is an Indian unit of measure that is between 1.5 and 3 miles, or a Greek Island off the coast of Turkey.

An example of a kos is the distance of five times around a high school track.
An example of Kos is a Greek island measuring 111 square miles with a population of over 30,000 people.
---
kos
noun
pl.
in India, a unit of linear measure varying from 1.5 to 3 miles
Origin of kos
Hindi from Sanskrit
krósa-,
literally , a shout (hence, literally , shouting distance) from Indo-European an unverified form
korau?-
from base an unverified form
ker-
from source Classical Latin
corvus,
raven
Kos
Greek island in the Dodecanese, off the SW coast of Turkey: c. 111 sq mi (287 sq km)
---
Kos
also Cos
An island of southeast Greece in the northern Dodecanese Islands at the entrance to the Gulf of Kos, an inlet of the Aegean Sea on the southwest coast of Turkey. Hippocrates founded a medical school on the island in the fifth century BC. Kos became part of modern Greece in 1947.
---
kos

Acronym
Kill on Sight (gaming)

tactical: kill healers and/or armorless DPS at first.
social: kill unwanted person, frustrate her/him

Knowledge Organization System
Knowledge of Self (song)
Keep on Smiling
Knights of Solamnia (DragonLance fictional organization)
Kids Over Shoulder
Kernel Operating System
Kiss on Sight (gaming)
Kohler Operating System
Key Operated Switch
King of Suicide (gaming)
Key Operated Selector
Knights of Siberys (gaming, Dungeons & Dragons)
Knowledge Organization Structure
Knowledge System
Proper noun
(law) Abbreviation of Kosovo.
Usage notes
This is the customary abbreviation of this term as used in case citations. See, e.g., The Bluebook: A Uniform System of Citation, Nineteenth Edition (2010), "Geographical Terms: Foreign countries and regions", Table T10.3, p. 438-443.
---