Klondike
Klon·dike
river in W Yukon Territory, Canada, flowing west into the Yukon River: c. 100 mi (161 km)

gold-mining region surrounding this river: site of a gold rush (1897-98): usually used with the
Origin of Klondike
Athabaskan from uncertain or unknown; perhaps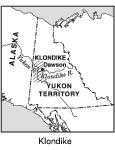 ---
Klondike
A region of Yukon Territory, Canada, just east of Alaska and traversed by the Klondike River, about 160 km (100 mi) long. Gold was discovered here in August 1896, leading to the gold rush of 1897-1898 in which more than 30,000 people sought their fortune in the frozen north.
noun
A form of solitaire in which 28 cards are laid out in seven piles and the player moves through the remainder of the deck one or three cards at a time. The objective is to remove the aces and build sequential stacks sorted by suit ascending up to king.
Origin of Klondike
From
Klondike
1
(
perhaps because the game became popular around the time of the Klondike gold rush
)
---
klondike

Noun
(plural klondikes)
Alternative form of Klondike.
---