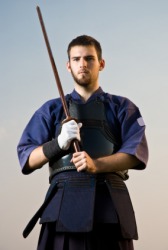 A kendo fighter.
---
kendo definition by Webster's New World
noun
stylized swordplay in which bamboo swords are used: a Japanese sport
Origin: Japanese ; from Sino-Japanese ken, sword plush dō, way
Webster's New World College Dictionary Copyright © 2010 by Wiley Publishing, Inc., Cleveland, Ohio. Used by arrangement with John Wiley & Sons, Inc.
---
kendo definition by American Heritage Dictionary
noun
The Japanese martial art of fencing with bamboo swords.
Origin: Japanese kendō : ken, sword (from Middle Chinese kɨamh, kiam) + dō, way; see aikido.