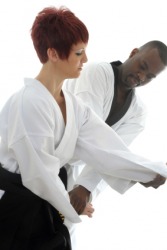 A couple practicing Akido.
---
aikido definition by Webster's New World
noun
a Japanese system of self-defense in which various holds and circular movements are used to exploit to one's own advantage an opponent's strength and weight
Origin: Japanese aikidoo, literally , the art of matching (the opponent's) spirit ; from ai, a fitting (; from au, to fit, suit) plush Sino-Jpn ki, spirit, soul plush Sino-Jpn doo, way, art
Webster's New World College Dictionary Copyright © 2010 by Wiley Publishing, Inc., Cleveland, Ohio. Used by arrangement with John Wiley & Sons, Inc.
---
aikido definition by American Heritage Dictionary
noun
A Japanese art of self-defense that employs holds and locks and that uses the principles of nonresistance in order to debilitate the strength of the opponent.
Origin: Japanese aikidō : ai, mutual + ki, spirit (from Middle Chinese khi) + dō, art (from Middle Chinese daw', thaw).