jubilee

ju·bi·lee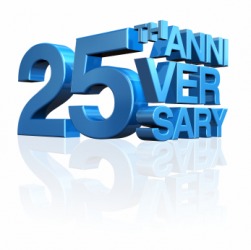 A jubilee celebrates a special anniversary.
noun
The definition of a jubilee is a special anniversary or celebration.

An anniversary of 25 years of an event is a example of a jubilee.
---
jubilee
Jewish History

a year-long celebration held every fifty years in which all bondmen were freed, mortgaged lands were restored to the original owners, and land was left fallow: Lev. 25:8-17

an anniversary, esp. a 50th or 25th anniversary
a celebration of this

a time or occasion of rejoicing
jubilation; rejoicing

R.C.Ch.

a year proclaimed as a solemn time for gaining a plenary indulgence and for receiving absolution, on certain conditions: an

ordinary jubilee

occurs every twenty-five years
Origin of jubilee
Middle English from Old French
jubile
from Ecclesiastical Late Latin
jubilaeus
from Ecclesiastical Greek
i?b?laios
from Classical Hebrew (language)
y?b?l,
a ram, ram's horn used as a trumpet to announce the sabbatical year: influenced, influence by Classical Latin
jubilum:
see jubilate
---
jubilee
noun
a. A specially celebrated anniversary, especially a 50th anniversary.

b. The celebration of such an anniversary.

A season or occasion of joyful celebration.
Jubilation; rejoicing.
often Jubilee Bible In the Hebrew Scriptures, a year of rest to be observed by the Israelites every 50th year, during which slaves were to be set free, alienated property restored to the former owners, and the lands left untilled.
often Jubilee Roman Catholic Church A year during which plenary indulgence may be obtained by the performance of certain pious acts.
Origin of jubilee
Middle English
jubile
from
Old French
from
Late Latin
iūbilaeus
the Jewish year of jubilee
alteration
(
influenced by
iūbilāre
to raise a shout of joy
)
of
Greek
iōbēlaios
from
iōbēlos
from
Hebrew
yôbēl
ram, ram's horn, jubilee
ybl
---
jubilee

---