Josephine
[jō′zə fēn′, -sə-]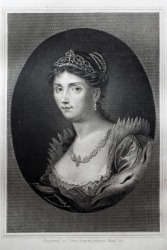 Napoleon's wife Josephine.
---
Josephine
noun
a feminine name: dim. Jo, Josie; var. Josepha
Origin of Josephine
French
Joséphine
; from
Joseph:
see Joseph
1763-1814; wife of Napoleon (1796-1809) & empress of France (1804-09): wife (1779-94) of Vicomte Alexandre de Beauharnais (1760-94), Fr. army officer
---
Josephine
---
Josephine
Proper noun
A female given name
Origin
French Joséphine, diminutive of Josèphe, feminine form of Joseph; made popular by the Empress of Napoleon.
See also:
Joséphine
---