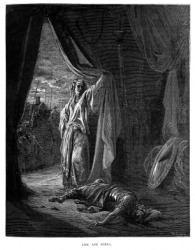 An illustration of Jael with the body of Sisera.
---
Jael
noun
Bible
the woman who killed Sisera by hammering a tent peg through his head while he slept: Judg. 4:17-22
Origin of Jael
Classical Hebrew (language)
yāel,
literally , mountain goat
---
Jael
Proper noun
A female given name.
Origin
From the name of a minor biblical character, Hebrew יעל.
---